Visiting Auschwitz is often one of the most significant activities on a typical Krakow itinerary. Auschwitz – Birkenau, a former German Nazi concentration camp, is a sobering place where many people lost their lives. Going to see this site is not among joyous or pleasant things to do while on holiday. However, we believe it's a place everyone should visit if they are in the region. If you consider going on an Auschwitz tour from Krakow, this post will give you some practical information and tour suggestions.
Auschwitz Birkenau Concentration Camp and its horrors
Auschwitz camp was opened by Nazis in 1940. At the time, Germany occupied Poland. Auschwitz is a German name for the town of Oświęcim, located about 60 km (38 miles) west of Krakow. The camp was built in Oświęcim because at the time, it was where railroad tracks from across Europe converged. Auschwitz consisted of three large parts: Auschwitz I, Auschwitz II – Birkenau (a German name for the village of Brzezinka), and Auschwitz III – Monowitz (a name for Monowice). The camp operated until 1945 when it was liberated by the Soviet Army.
The camp's initial purpose was detaining political prisoners, but with time it transformed into a concentration camp where minorities, in particular European Jews, were exterminated. The inmates were mainly Jews, Poles, Roma, and Soviet prisoners of war. Auschwitz was the largest and, based on accounts, the deadliest of the six death camps built by the Nazis. People taken into the camp were stripped of their identities and belongings. Identifying numbers were given to those selected for forced labor. Some categories of prisoners (mainly Jewish or ill people) had the numbers tattooed on their skin. Tattooing numbers on prisoners' bodies was typical only of the Auschwitz concentration camp. Although there are no concrete numbers (many people were sent straight to the gas chambers upon arrival without any registration), it is estimated that during World War II at least 1.1 million people lost their lives in Auschwitz alone. Many of them in gas chambers, others due to exhausting labor in intolerable conditions and malnourishment.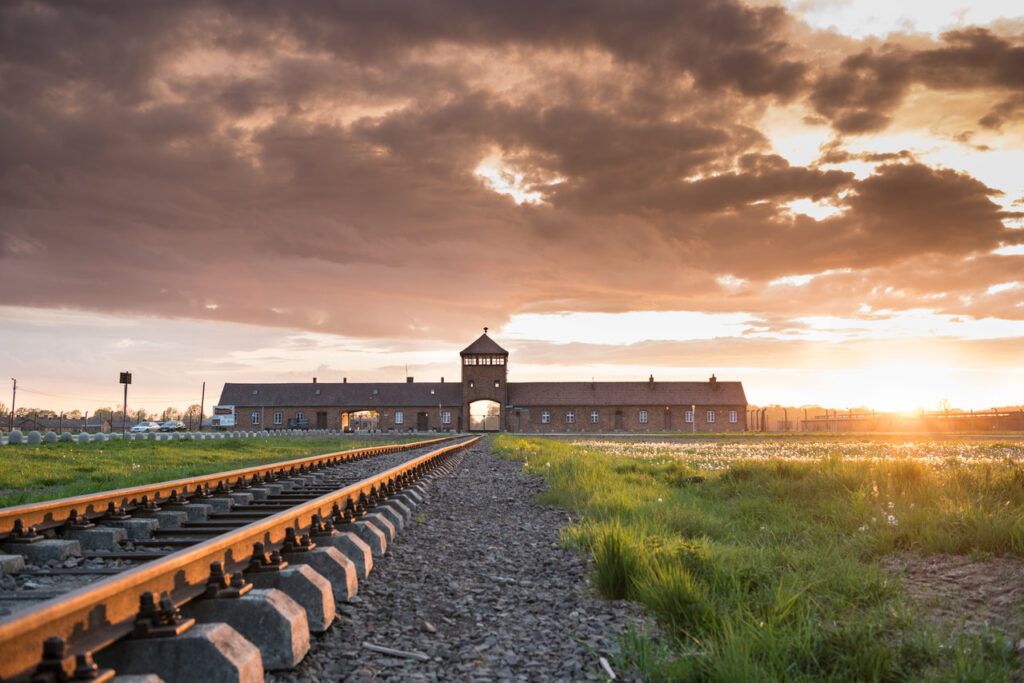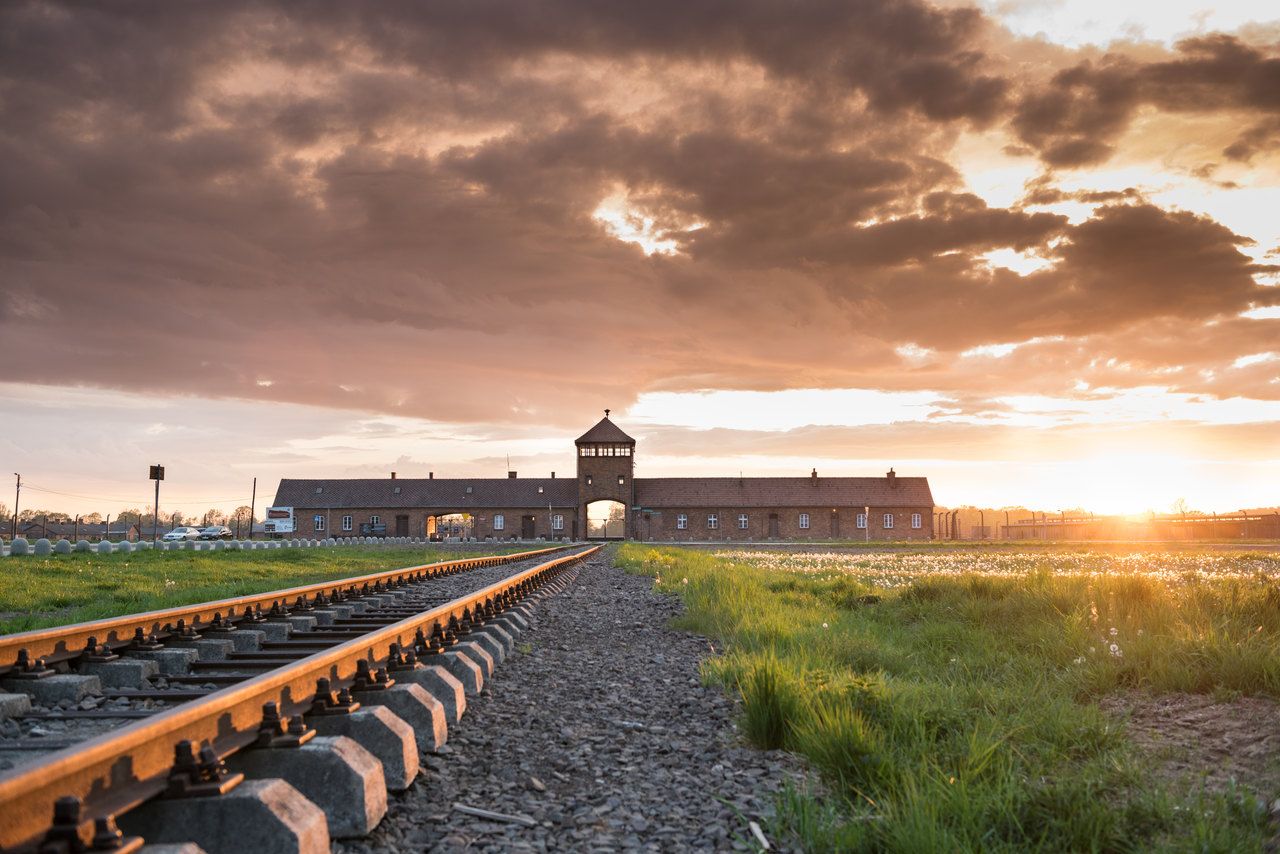 Auschwitz-Birkenau State Museum – in memory of the victims
Auschwitz was witness to some of the darkest times in human history. Today, Auschwitz Museum, created in 1947, is a somber reminder of the horrid crimes that happened in the camps. It is worth noting that Auschwitz Birkenau is the only extermination camp on the UNESCO World Heritage List. The site has been preserved as evidence of what happened and a warning to posterity. More importantly, it was established in memory of all the people who lost their lives in the camps and indeed, during the war.
Auschwitz Memorial, which tourists can visit these days, consists of two parts of the former concentration camp.
Auschwitz I
Most Auschwitz tours begin at Auschwitz I, the first and original camp that was meant for political prisoners. Above the entrance gate to the camp, you'll see the inscription in German 'Arbeit Macht Frei', which translates to 'Work makes you free'. In this part of the Auschwitz Memorial and Museum, you will see personal belongings that were taken from the inmates, including shoes, and 2 tons of human hair. Seeing these exhibitions will likely be an emotional experience.
Auschwitz II – Birkenau
Birkenau camp is the second part, the largest of the whole Auschwitz complex. Added in 1942 a few kilometers from Auschwitz I, the Birkenau camp was the main place where mass extermination of the Jewish people took place. To put things into perspective, it is estimated that around 90% of this concentration camp's victims died in Birkenau between 1942 and 1944. With the Soviet Army approaching, the Nazis attempted to cover all traces of the atrocities by destroying most of the buildings in Birkenau. As a result, Auschwitz II Birkenau consists mainly of ruins. Nevertheless, here you will still see remains of the prisoner barracks and the crematoriums.
Why you should visit Auschwitz
Despite being a sad place with painful history where thousands of people were murdered, Auschwitz is one of the most visited places in Poland. Many people agree that it is worth having this unsettling but important and educational experience. Remembering the atrocities that happened and honouring the victims is crucial. Although grasping the horrors people lived through in the death camp is difficult, a visit to this place and seeing gas chambers with your own eyes allows for a slightly better understanding. Here, you can learn about World War II and the Holocaust, or receive more details about what you've previously read and heard on the topic. For certain, a visit to this place will not leave you indifferent. Finally, as it's such a popular place, there are many Auschwitz sightseeing tours from Krakow, so you can easily find one that will fit your schedule.
Practical information for visiting Auschwitz
Getting to Oświęcim from Krakow
As you already know, Krakow is the city you want to fly into in order to visit Auschwitz. As it's one of the must-see sites in the region, the Krakow city centre is well-connected with Oświęcim. You can make the trip on your own via bus or train. However, if you want to save time and avoid the stress of finding schedules, buying tickets and finding the correct stops, we recommend booking an organized tour.
Booking a visit
Although admission to the museum is free, it's necessary to make reservations far in advance, especially in the high season. If you'd like to visit alone without a paid guide (the museum refers to them as guides-educators), it is only possible within a certain set of hours. The times depend on the month, so it's essential to check this on the museum's website. It is also worth noting that, although there's no actual rule, visiting the Auschwitz Memorial with children under 14 is not recommended due to the graphic nature of the museum.
With a guide or not?
If it's your first time visiting Auschwitz, we recommend opting for a guided tour. It will give you a lot of background history and understanding about Nazi concentration camps and the Holocaust. In addition, having an experienced guide will help to efficiently move around the grounds and make sense of what you see. Only guides authorized by the museum are allowed to lead visitors around Auschwitz, so you can be certain that you'll get a scholar's level of information.
Duration of the visit
It is recommended to allow at least 3 hours for seeing Auschwitz – Birkenau Museum. Note that Auschwitz I and Auschwitz II are situated around 3.5 km (approx. 2 miles) from each other. There is a free shuttle bus provided by the museum that individual visitors can take to move between the two camps.
Auschwitz Tours from Krakow
Since Auschwitz and World War II form an important part of Polish history and we think a visit to Auschwitz Birkenau Museum is a must, at MrShuttle we offer a number of variants for an Auschwitz tour from Krakow. This way, you can choose the one that meets your needs -whether you're interested in group tours or private tours. All of our tours to Auschwitz are accompanied by an English-speaking driver for your convenience. Here is a summary of the Auschwitz tours you can select from.
Although visiting two big sights outside of Krakow in one day may seem like a lot, this group tour is a solution for travellers who are short on time but would like to see both of those must-see places. If you haven't heard about Wieliczka Salt Mine near Krakow, you can read more about it here. In the price of this tour, you'll get a hotel pickup (or pick up from your selected meeting point), entrance tickets to both places and a professional tour guide. As this is a full-day trip, lunch is included in the cost of the tour.
If you have enough time while in Krakow or have decided that you'll give the Wieliczka Salt Mine a miss, you can choose a regular group tour that focuses just on Auschwitz. This guided tour includes shared transport from the Krakow city center to the museum and back, as well as entrance tickets and a tour guide. You can expect the whole tour to last around 7 hours.
If you'd prefer a guided tour just for you and your companions, you can opt for this private Auschwitz tour. Here, a private guide will walk you around the Auschwitz grounds. The entrance fees are included in the tour cost and tickets will be organised for you. In adittion, you'll have your own private transportation from Krakow. The tour takes about 7 hours.
Auschwitz – Birkenau Semiprivate Guided Tour
We also have an alternative for those who would like a tour with a shared guide, but with a private car. Entrance tickets and Krakow hotel pickup are included.
Auschwitz – Birkenau transportation from Krakow
In case you have already booked your visit to the Auschwitz – Birkenau Memorial yourself and are not interested in guided tours, you may still like to book private transport both ways. In this option, we will provide you with a hotel pickup and a 4-hour waiting time during which you can tour the museum on your own. Our driver will also drive you between Auschwitz I and Auschwitz II, so you don't have to wait for the museum's shuttle bus. You may also book a one-way transfer, either from Krakow to Oświęcim or from Oświęcim to Krakow, depending on what you need. A ride from Krakow to Auschwitz takes approximately 1 hour 20 minutes. It is possible to get a transfer from/to the city centre or the airport. Free cancellation is possible up to 24 hours before departure.
We hope this range of tours gives you enough flexibility to visit Auschwitz during your time in Krakow. Concentration camps had an immense impact on Poland and its history. Auschwitz Birkenau is a reminder of shameful and heinous crimes against humans. We strongly encourage everyone to pay a visit to Auschwitz and not let this part of history be forgotten.
Enjoy this post?
Add your opinion!
Trusted by almost 1 million customers
MrShuttle best destinations: