A dream city for anyone who loves history, culture, art and architecture; Vienna is a great destination for a European city break. With a great number of museums, palaces, parks and shops, as well as beautiful buildings, there's no time to get bored.
A
Whether you decide to spend Christmas in Vienna or enjoy it in the summer, you can have a great time in the Austrian capital in any season. So, if your question is 'What is there to see and do in Vienna, Austria?', have a look at some of our ideas below.
1. Pop into a few museums in Vienna
Vienna's Museums Quartier, Albertina, Belvedere Museum, MUMOK, the Jewish Museum… there are so many to choose from that Vienna museums are among the city's biggest attractions. Art fans in particular will be happy with the number of art museums at their disposal. There are also other interesting museums like the Sigmund Freud Museum where you can see the place where the famous founder of psychoanalysis lived and worked. The Museum of Natural History is another great spot and a fun place for kids and adults alike. You can spend hours looking at its vast collection which includes dinosaur fossils.
2. Take a stroll along the Ringstrasse
Have the best view of Vienna's stunning architecture while walking around the city's historic city center. The Ringstrasse (or the Ring Road) dates back to the Habsburg era and it will take you by some of the most beautiful buildings in the city like the Austrian Parliament Building, Rathaus (Town Hall) and the State Opera House.
3. See the city's musical side at the Vienna Opera House
The Austrian capital does not lack beautiful buildings and Vienna State Opera is one of the most impressive buildings in the city. Take a moment to look at its grand exterior. You can also see it on the inside, either by attending a concert or joining a guided tour.
4. Admire St Stephen's Cathedral
Wondering what Vienna is famous for? St Stephen's Cathedral may just be the answer. Standing proud right in the city's historic center, it attracts all the attention with its opulence and unique roof tiles. You can also climb up the tower for great views of Vienna from above.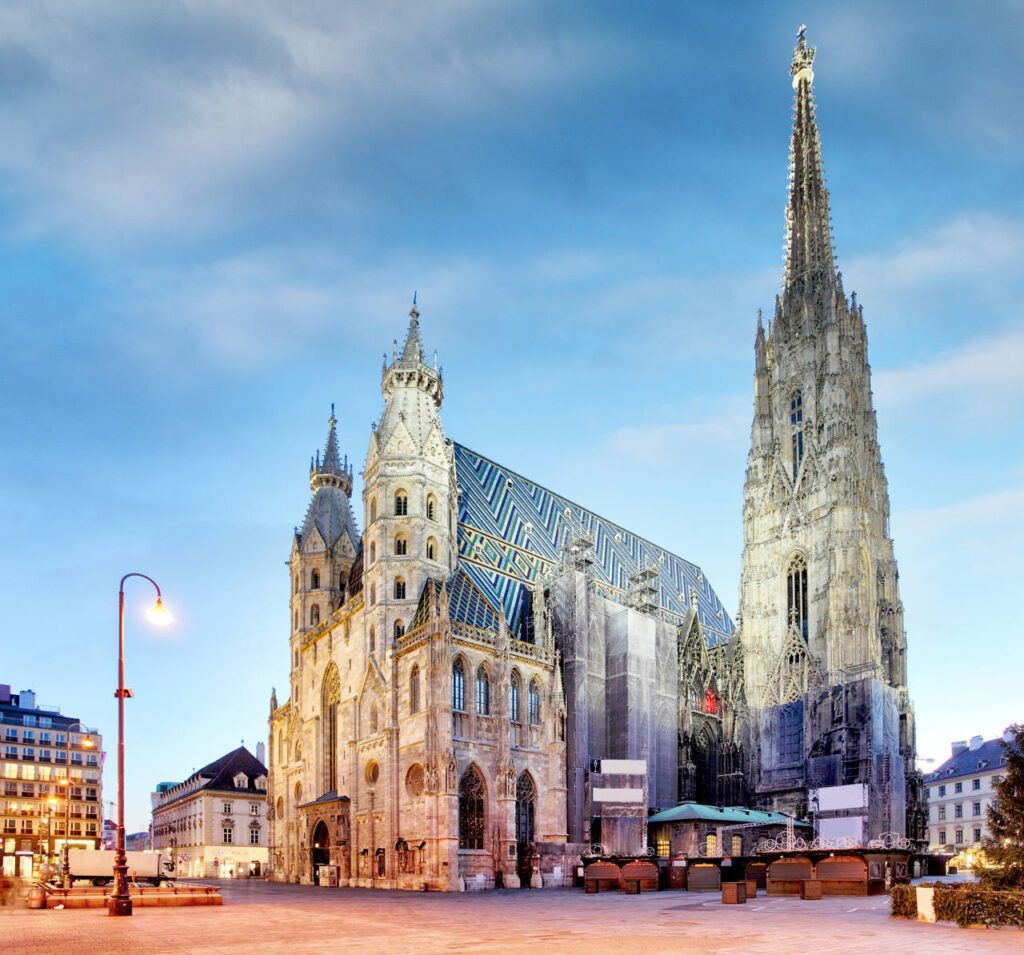 5. Treat your taste buds to Vienna dessert and coffee
Many tourists visiting Austria don't realize that Vienna has a serious coffee scene with many traditional café houses. Take a break from walking and sightseeing and have a taste of the Vienna-style coffee. Don't forget to sweeten your time with the city's signature chocolate cake – Sachertorte.
6. Schönbrunn Palace and Gardens
Located outside the city center, the Schönbrunn Palace is actually a large complex often compared to Versailles in Paris. This enormous palace was once the residence of the Habsburgs. The grounds of the complex are so big that you can easily spend the whole day here. If you want to see some of the rooms inside the palace, we recommend booking tickets in advance. You can also book a guided tour of the Schonbrunn Palace and Gardens with transport included.
7. Step into the world's oldest zoo
If you're looking for things to do in Vienna with kids then visiting the Vienna Zoo (Tiergarten Schonbrunn) located within the Schönbrunn Palace is one of them and will likely put a smile on the kids' faces. Apart from its impressive size, it is the oldest zoo in the world and home to the Giant Pandas.
8. Relax on the Danube Island the way locals do
Built to protect the city from flooding, Danube Island is where the locals like to rest and exercise. There are little beaches, trails, picnic areas, and bars, among others. Danube Island is a place where you can jog, cycle, play volleyball, sunbathe, rent boats and much more.
9. See Vienna at night
Although Austria's capital is breathtaking enough during the day, try to see it also after the dark. Vienna attractions such as St Stephen's Cathedral, State Opera House and the Belvedere Palace look spectacular in twinkling lights. To see them all, you can even join a guided panorama bus tour of Vienna.
10. Go on day trips from Vienna
Staying in Vienna for longer? Take advantage of the city's location and visit other beautiful cities. To see more of Austria, you can take a day trip to Salzburg or Hallstatt. From Vienna, it is also easy to visit two other European capitals. If that sound tempting, consider a day trip from Vienna to Bratislava or Budapest.
Enjoy this post?
Add your opinion!
Trusted by almost 1 million customers
MrShuttle best destinations: