Do you have a trip to Krakow planned and are looking for information on how to get from Krakow airport to city centre? Being in a foreign country can be intimidating, especially if you have to figure out how to get from one place to another. Luckily, John Paul II Kraków-Balice International Airport (KRK) is located approximately just 7 miles from the Krakow centre. You can travel between these two points via public transportation or private transfers.
D
So you know what to expect, below we highlight some of the details about the available transportation options and things to have in mind.
Bus from Krakow airport bus station
Those travelling on a budget often choose to cover the distance from the airport to Krakow city centre by bus. There are a couple of local bus lines available which depart from the Krakow Airport bus stop located right in front of the terminal building. Although the cheapest way (a regular bus ticket will cost around 6 PLN), the bus journey takes longer than other options. Day buses cover the distance between Krakow airport and the city centre in about 45-50 minutes, while a night bus will be faster – closer to 35 minutes. Bus tickets can be purchased from a ticket machine in the Arrivals Hall or at the bus stop.
Remember: to avoid getting into trouble with a ticket inspector, don't forget to validate your ticket after getting on the bus.
Train from Kraków airport train station
For a quicker, but still budget-friendly ride from Krakow airport to the city centre, a train will be your answer. Catching a train from Krakow airport is a convenient option and offers much less hassle, especially if you're staying close to the Old Town. Krakow airport train station is located next to the terminal building, at the back of the multi-storey car park, so you can easily access it. Trains leave every 30 minutes or so and take you to the city's main train station (Kraków Główny) situated within walking distance to Krakow Old Town. The journey time is less than 20 minutes. A single ticket from Krakow airport to the city centre costs around 14 PLN and you can get it from ticket machines located in the passenger terminal or at the train station. The trains have spaces for passengers with reduced mobility and are equipped with power outlets and air conditioning.
Important to note: The last train leaves around half past midnight, so if you're flying in late, you may have to take a night bus or choose another option.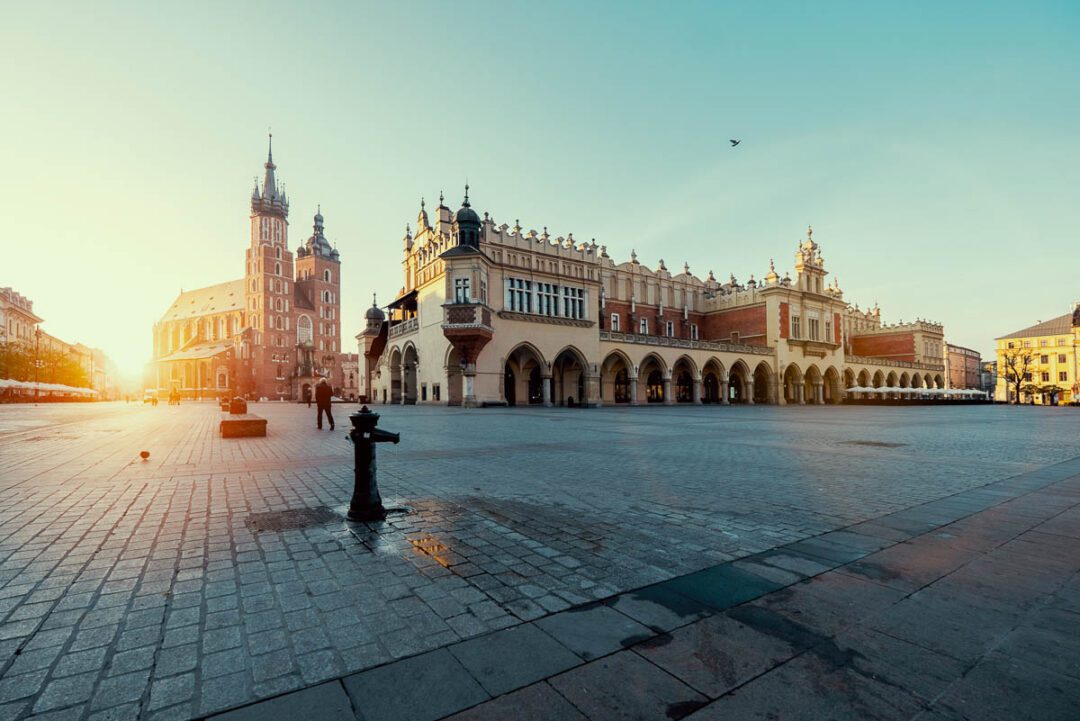 Private transfer from Krakow airport to the city centre
Not keen on using public transport? Or maybe you're travelling with a bigger group and want a private ride? If so, consider a private transfer with MrShuttle, which you can book online. Its price doesn't differ much from that of a taxi, but unlike with a taxi, you'll know the cost upfront and can book it in advance. With MrShuttle there's no guessing or queuing.
Our Krakow Airport to Krakow Transfer comes with door-to-door service, which means that we will pick you up from the airport and drop you off at your hotel. In addition, we offer free cancellations up to 24 hours before the ride. Check out our Krakow airport to Krakow transfer booking page for full details. We also offer transfers from Krakow airport to other popular destinations, such as Zakopane or Katowice.
Taxi from Krakow airport
If you're flying in late at night, are travelling with heavy bags, or simply prefer to travel to your hotel in a car, you can always opt for a taxi. You will find the Krakow Airport taxi rank just outside the terminal. Since Krakow airport is not very far from central Kraków, you can expect the taxi fare to cost you on average around 130 PLN, but that of course depends on your destination.
Note: most taxi drivers will accept cash only in Polish currency.
Enjoy this post?
Add your opinion!
Trusted by almost 1 million customers
MrShuttle best destinations: