With the return to normality finally within our reach, we all deserve a break. Thanks to mass vaccination efforts, more and more places become safe to visit. For example, just recently, Spain has decided to welcome back travelers from all over the world!
W
2022 is going to be a special year and a great opportunity for anybody interested in traveling. We greatly encourage you to spend your holidays abroad. To help you find your perfect travel destination in 2022, we want to share our choice of top travel ideas for 2022 for you. Our recommendations are Poland, Spain, Italy, and Portugal! Read further to learn about the best places to visit.
Before we talk about these fantastic travel destinations, let's address two important questions people might have. Why should you travel in 2022, and is it even safe?
Why should you travel in 2022?
That is a good question. Some people might think that it is somewhat selfish to go on vacations while many other people are still recovering from financial troubles caused by the pandemic. And of course, often, those who need a vacation the most are not feeling that great about their finances. Additionally, there are still many worries and doubts about the safety of international travel. Let's address these concerns one at a time.
Tourism is not selfish. It helps people get back on their feet.
While you might feel bad about the idea of celebrating while others are still in peril, remember that tourism is the seasonal source of income for thousands of people. The pandemic has robbed them of it. By spending your money on tourism, you are helping reinvigorate the economy and directly improving people's lives.
Tourism in 2022 might turn out to be the least expensive in years.
COVID-19 has damaged countless people financially. You might have been impacted by it yourself. Unsurprisingly, people might feel that travel is a luxury they might not be able to afford. The tales of some local businesses having to raise their prices to survive also do not inspire confidence. However, this is about to change. Due to massive vaccination efforts and the reopening of international travel, people are banking on making as much money as possible in the upcoming season. And best way to do so is by lowering their prices. In addition, governments are keen on revitalizing the tourist industry, often through financial aid and special projects.
That's right – in many places, travel and tourism will be cheaper than in the last few years. This is a great opportunity that might not come up again. So even if you are feeling financially shaky, consider giving yourself a well-deserved break and book the holidays. Such an opportunity might not happen again.
Travel in 2022 is safe.
More and more people are getting vaccinated everywhere. Safety protocols have been polished and perfected over the last year. Humanity has adapted to the pandemic. For travel to be globally restarted, safe solutions were required. And they were delivered! You don't have to fear anymore. Follow the rules, pay attention to the guidelines and protocols, and focus on enjoying your vacations. To help you make your traveling as safe as possible, we explained how to travel safely in the era of CORONAVIRUS.
4 Europe Top Travel Ideas In 2022
So traveling is safe and helps everybody all around. Knowing that only one question remains. What are the best places to travel? To help you plan your holiday trip, we choose 4 of our European favorites. These countries are some of the world's best holiday trip destinations! Some of them might surprise you.
A quick note before we delve into the best places to visit in Europe – MrShuttle is present in all these locations. What does that mean, exactly? Well, it means that you can count on us to provide you top quality door-to-door services. While MrShuttle started as a humble, Krakow-based airport transfer operation, we expanded into other cities and countries and moved into other branches of the industry.
We can help you with pretty much anything regarding transport and travel. We can help you arrange transfers, hotels, tours, and trips. MrShuttle's ambition is to become a one-stop shop for all your travel needs. On each of the country pages (linked in the descriptions), you will be able to find details about our transfers and ways to contact us if you have any questions. And we encourage you to ask them!
Poland is MrShuttles home country, and we love it dearly. We are not recommending it to you only out of patriotism. Poland is genuinely a great choice for your trip if you look for an affordable, culturally vibrant destination in middle-eastern Europe.
While not everybody speaks English in Poland, many younger people are very fluent in English, and many of them work in the tourism industry. So you do not have to worry much about the language barrier. The majority of restaurants, shops, and other places nowadays accept credit and debit cards, so you will also not have any problems with currency and payments. In fact, most Poles nowadays pay for pretty much everything by sweeping their phones!
The weather in Poland is pretty reasonable and balanced, so if you do not like high temperatures, you will like it a lot. Do not worry, though – it does not mean that Poland is cold, either. The climate is temperate, with all the benefits of that! Poland has great choices for all seasons – in summer, we especially recommend Gdańsk, while you can't compete with Zakopane in winter. Kraków is great all year around. You can read more about them below!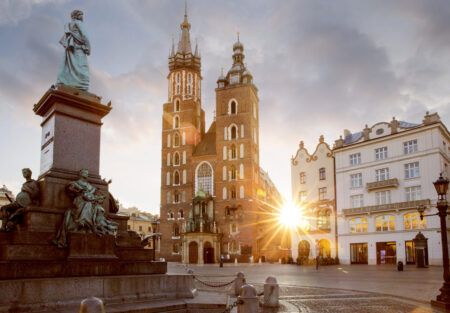 You might have expected "Krakow" instead of "Małopolska," which would not be a bad guess! However, let's be honest here – there is so much to do and see in the Małopolska region that the entirety of this list could consist of places to visit here. Located in the southern part of Poland, Małopolska has the top Polish tourist destinations, all clumped together. We have written about Kraków, Auschwitz, and Zakopane extensively on our blog – you can find more about them here. If you are looking for a Perfect Family Weekend in Małopolska, do not look further.
Some of the best places any visitors coming to Poland should see include:
Gdańsk – the best place to enjoy the Baltic Sea
Gdańsk, also known historically as Danzig, is a part of polish Tricity. Combined with Sopot and Gdynia, the Trójmiasto is the hottest, favorite destination for visitors looking for beaches and sea breeze in Poland. The best time to visit Gdańsk is definitely summer when the Tricity is brimming with cultural events and festivals, and the weather is perfect for enjoying the sea. When visiting, do not forget to see the Malbork Castle – the world's biggest castle – and Stutthoff Camp.
To help you plan your trip to Gdańsk, we wrote a blog post about Visiting Gdańsk! We hope it is helpful.
Most interesting places to visit while in Tricity:
Wrocław – the Pearls of Lower Silesia
Wrocław is one of the most popular cities in Poland. Located in Lower Silesia, Wrocław has strong multicultural influences, which are expressed in breathtaking architecture. It also functions as a perfect base of operations for exploring the Lower Silesia region. And there is a lot to see there! A fantastic choice for those who are itching for an outdoor adventure in mountainous terrain. Doubly so if you are interested in the secrets of World War II.
To help you have a perfect Wrocław experience, we prepared a post about Visiting Wrocław In 2021. You are welcome!
Some of the best places to visit when in Lower Silesia:
Warsaw – the heart of Poland
Warsaw, or Warszawa, is the capital of Poland. Industrious and constantly developing, it is one of the most dynamic cities in the country. There is a lot to do and see in Warsaw, and the city is probably most known for the fact that it was burned almost entirely to the ground during the Warsaw Uprising in the twilight of World War II. Despite that, years of dedicated hard work allowed the Old Town to be rebuilt. Resurrected from the ashes like a phoenix, Warsaw is only becoming bigger and better with every day.
Warsaw is a great place to visit if you want to learn more about Frederic Chopin and Nicolaus Copernicus, two very famous Poles who have shaped the world beyond Poland.
When in Warsaw, make sure to:
Witness the Palace of Culture And Science
Learn about Frederic Chopin and Nicolaus Copernicus
Everything you need to know about traveling to Poland
Entering Poland is safe and easy! You can easily avoid quarantine in Poland by providing proof of immunization, vaccination, or a recent negative COVID-19 test result. And…that is all! Air traffic has been resumed, and there are no special restrictions regarding who can enter or leave the country. It really is that simple! Can't believe it? Check the government site yourself.
Due to successful vaccination efforts, Poland is aiming at the herd immunity threshold soon and thus has started relaxing most COVID-related restrictions.
One of the world's most popular holiday destinations, Spain is full of visitors and reasons to visit. And while the country is already the second-most populous country in western Europe, do not worry! Even with all the tourists, you still will be able to find a perfect place for yourself. Be it beaches or mountains, city or country, Spain's popularity comes largely from the fact that there is something for anybody in there. Great for anybody who enjoys warm vacations.
Do not worry about the language barrier in Spain – many Spaniards speak English and German, especially in areas that are highly dense with tourism. And when in doubt, you can always count on MrShuttles English' speaking guides and drivers who will be more than happy to help you find your way around and answer any pressing questions.
Spain is a temperate climate country that is on the "warmer all-around" side of the spectrum. The balance of humidity and warmth makes it a perfect destination for anybody who likes to enjoy warm, sunny days without the constant heatstroke risk. Summer and Spring are the best seasons to visit Spain. Prepare your swimwear, make sure to stay hydrated, wear a hat, and hit that beach!
Best places to visit in Spain
Spain is usually divided into Northern and Southern Spain. Normally, we would segregate all the marvelous Spanish attractions into a list. That would require a post and a half in itself and still not cover everything Spain has to offer! Because of that, we decided to narrow the options down and present the 4 best places in Spain to get your adventure started.
How can you talk about Spain without starting with Barcelona? The City of Design, Barcelona, is possibly the most recognizable Spanish city, thanks to the iconic avant-garde architecture. That, and their fantastic football players, of course! F.C. Barcelona is world-famous for a reason.
When in Barcelona, look out for:
Sagrada Familia
Camp Nou Stadium
Many people ask, "Which is better to visit, Bilbao or San Sebastian?" We think that the answer is "why not both!" These two fantastic cities are close enough to each other that you do not have to compromise and can enjoy both of them during the same trip. Bilbao and San Sebastian represent the best Basque Country has to offer. Together, they are a dynamite combination that works great thanks to the contrast between them. Bilbao is bigger, more modern, and pulsating with city life – full of restaurants, nightclubs, bars, and parties. San Sebastian, on the other hand, is smaller, more refined, and elegant. So go to Bilbao to party and live, and to San Sebastian to slow down and take a stroll.
They both have fantastic beaches, too!
Granada is one of the most popular destinations in Southern Spain, and spending even a single day there quickly makes it clear why. When a place is a destination for foreign and internal tourism, you just know something good is there! Granada can be proud of Alhambra, one of the world's most popular attractions. Combine that with a smaller, chiller atmosphere of the city and some of the unique cuisines in the country, and you have a clear winner.
The capital of Spain! It is surprising how often people forget to consider Madrid a valid travel destination. It is only a testament to how varied and wide the options are in Spain! Madrid is still a solid contender and a great way to start your Spanish vacation. Nowhere else will you be able to see the Royal Palace, Prado Museum, Santiago Bernabeu Stadium, Plaza Mayor, or the Retiro Park! Madrid is also a great choice if you plan on visiting Toledo and Segovia.
Everything you need to know about traveling to Spain
Spain has a very well-explained government site explaining all travel restrictions. To stay up to date with travel restrictions in Spain, visit it here. They even have a cool youtube video!
A quick summary and a gist of it is: fill out a Health Control Form, check if you are from a high-risk country (and if you do so, prepare a proof of being COVID-19 negative: a vaccination certificate, recovery certificate, or a recent negative COVID-19 test result), prepare a QR code with your control form, and follow the instructions of the authorities in the airport. And after that, enjoy your stay in Spain. Sounds easy? It is! Spain wants you to come.
Italy is the definitive Mediterranean travel destination! Scions of the Roman heritage, Italians have much to be proud of. Incredible culture, awesome architecture, breathtaking sights, and mouth-melting cuisine are only some reasons to visit Italia.
While English is slightly less popular in Italy than in the other countries on this list, do not worry. You still will be able to speak English in all the important tourism areas, and in case of any misunderstandings, you can always count on our English-speaking guides and drivers. They will take great care of you!
Another temperate climate country. OK, we admit, we might be biased! But moderate climate is just perfect for tourism – the well-balanced weather makes vacations that much more comfortable and pleasant. When talking about Italian weather in the context of travel, people usually debate if it is better to visit in Spring or the Summer. Spring in Italy is chillier and full of frequent rains, which can be pleasant in itself. It is the perfect season to visit for many people because it is less hot and less crowded. Summer, of course, is when the temperature is perfect for the beach, and the streets are crowded with tourists.
But for those who love skiing, mountains, and winter sports. Winter in Italy is phenomenal for those who want to focus on the Alps and the cities, ignoring the beaches and water.
The only season that is honestly unpleasant to consider is the Fall, and specifically, August, since the weather switches from hot to a cold almost randomly. It makes planning your activities annoying and can lead to literal headaches. In fact, August tends to be so bad that many Italians – especially those in the travel business – tend to take between two weeks to an entire month off.
Best Places to visit in Italy
While choosing the best places to show off in Spain was hard, Italy is another story. Not because there is not much to see – there is as much to do in Italy as there is in Spain – but because we have clear favorites we want to share with you. We fell in love and want you to do so too.
Rome, The Eternal City
Of course, we will recommend you to visit Rome while in Italy. How could we not? The Eternal City has been one of the most beautiful cities in the world for thousands of years. Rome is just brimming with history, power, and magnetic charm like no other place in the world. Of course, it is not just all about ancient ruins – no, Rome is a fantastic fusion of imperial history and modern city life. Rome also has pretty awesome food opportunities and serves as a great place to base your exploration of the rest of the country from. Anybody visiting Rome should consider making a short trip to the Vatican and Pompeii.
There is way too much to cover Rome to give it justice in this blog post. Even figuring out the 4 best sights to recommend is hard because there are so many of them!
Colosseum
Roman Forum
Piazza Di Spagna
Sistine Chapel
Venice, the Floating City
However, some think that the most beautiful experience in Italy awaits you not in the capital of Rome, but the capital of Veneto. Venice is a city that is unique on the world scale, offering an experience that cannot be replicated anywhere else. Navigated through canals, forever associated with the imagery of gondolas and masks, Venice has a strong and distinct personality that is distinctly different from anything else, even other Italian cities.
We could gush about Venice all day and night, telling you about the festivals, the stories, the food, and the sights. It is just that loveable! But a much better plan is to visit it yourself and enjoy it all while it lasts. "While it lasts?" Indeed – another unique, but this time sad, the thing about Venice is that it lives on a time limit. Due to how the city is built and how integral the tides and water it is, Venice's lifespan is limited. The city is, to put it bluntly, sinking. Each year, a bit of the Floating City is lost to the sea. Scientists estimate that we might lose it to the waters before the year 2100. So our advice? Come and see it while there is still time.
And make sure to see:
St Mark's Basilica
Doge's Palace
Bridge of Sighs
The Grand Canal
Florence, the Cradle of Renaissance
Florence is well known to anybody interested in Renaissance art, culture, and architecture. Sometimes people joke that walking through the streets of Florence is like being in a gigantic outdoors museum. And it tracks! The city is infused with a romantic atmosphere, and its vibrant architecture will remind you why all of the European worlds looked to Italy when it came to ideas of beauty and culture. The best manifestation of the spirit of Florence is the world-famous statue of David, sculpted by the master Michelangelo himself. Florence is also a phenomenal base of operation for those who want to explore the Italian region of Tuscany.
When in Florence, DO NOT MISS:
Piazza della Signoria
Piazzale Michelangelo
Cathedral of Santa Maria del Fiore
Everything you need to know about traveling to Italy
Italy has been celebrating the reopening of more and more of its regions. When traveling to Italy, you should start by checking if your country is on the Italian red travel list. If it is not, remember to take your green pass (EU Vaccination or Recovery Certificate) and fill out a digital PLF. This way, you might avoid quarantine!
Sunny Portugal is the best choice for those who want as much sun during their summer vacations as possible. This hot country is full of even hotter tourist destinations, attractions, and amazing sights. And people there have warm and friendly hearts, too! And despite the common fear, more and more Portuguese speak English, especially in the younger generation, so that you will get around just fine. And when in doubt, call MrShuttle – we will provide you with any assistance you might need.
Portugal is two things: sunny and hot. We are not joking. Some people visit Lisbon just to get extra vitamin D in their system! Due to the whole "sweltering heat" thing, there are two schools of thought as far as visiting Portugal goes: you either embrace the sun and visit in Summer, or you try to hope for more forgiving temperatures and travel in Spring or Autumn. The advantage of the second option is that being off-season, things are less crowded and cheaper. The big advantage of Summer is that it is Summer, and things that are best in Portugal are best enjoyed in Summer!
Best places to visit in Portugal
One of the sunniest cities in Europe, Lisbon is a hot tourist destination brimming with positive energy all year long. Built on seven hills, Lisbon will provide you both with a great dose of Vitamin D and pleasant exercise! Up and down, you will explore charming and mesmerizing streets full of incredible architecture and Portuguese spirit. The oldest part of Lisbon, the Alfama district, is an absolute must-visit part of the town. The same can and should be said about Belem. Once you are tired of all the up-and-down of hills, you will greatly enjoy the cruise down Tagus River.
Lisbon is also a fantastic base for further exploration of the region, as you can easily reach Sintra, Cascais, and Estoril. Fatima is also a possibility!
Madeira is a unique island that is a perfect choice if you want a retreat from humanity. There is probably no better place in Portugal – or perhaps the entire Iberian peninsula – just to forget that civilization exists and lose yourself in nature. Due to the island's unique topography, it is basically in a state of perpetual, eternal spring. Madeira is also within Santa Cruz and Santana, which makes it a great starting point for your adventure.
If Porto were less breathtaking, it would be only recognized as the origin of Port wine. However, the beauty of Porto matches the exquisite taste of its main export, creating a truly phenomenal combination. Are you interested in the sights and the food? Or do you want to focus on the wine tasting? Don't choose one or the other, and enjoy both! In Porto, all is possible! And if you somehow grew tired of the city or perhaps just want to mix it up a little, Douro Valley and Aveiro are just in the right range for a quick trip.
When in Porto, don't miss:
Ponto Dom Luis I
Cais da Ribeira
Mercado do Bolhão
Port wine in Vila Nova de Gaia
Faro is sort of a hidden gem in Portugal. Many people ignore it, with their eyes fixed on Algarve resorts. Let us let you into a secret – if you skip Faro, you are giving yourself a disservice! Faro has its own share of fascinating culture and history. The old town is particularly well preserved. The beaches are splendid too! Faro has everything that makes Portugal wonderful while dodging some of the country's downsides – the crowds and the costs. In Faro, you will pay less, avoid crowds, and sacrifice no quality in the process!
Everything you need to know about traveling to Portugal
Certain countries are prohibited from entering Portugal, but you are welcome in Portugal if you are a traveler from Schengen Area and European Union! To enter Portugal, you need to fill out the Passenger Locator Card.
Enjoy this post?
Add your opinion!
Trusted by almost 1 million customers